Forget about the holiday blocks
Plan your holidays together in just a few clicks from anywhere
Did you know that the hassle of holiday planning with a professional system is gone forever? The holiday planner module is an online interface where workers and managers can plan, apply for and approve holidays.
E-mail Notification
Sends an email notification of holiday requests to the designated person. You can approve or reject requests from anywhere at the touch of a button.
Instead of a note block
Replaces the paper-based holiday block in 100%. Verify according to your needs, even by printing the requests and having them signed.
Transparent
The intuitive interface will help you plan the holidays distributed for the year. In group view, you can view the holiday of the entire company or departments.
Legislation Monitoring
The days off from the employee's data are calculated automatically also in case of a working time frame. It takes into account the current applicable legislation.
You deserve such an interface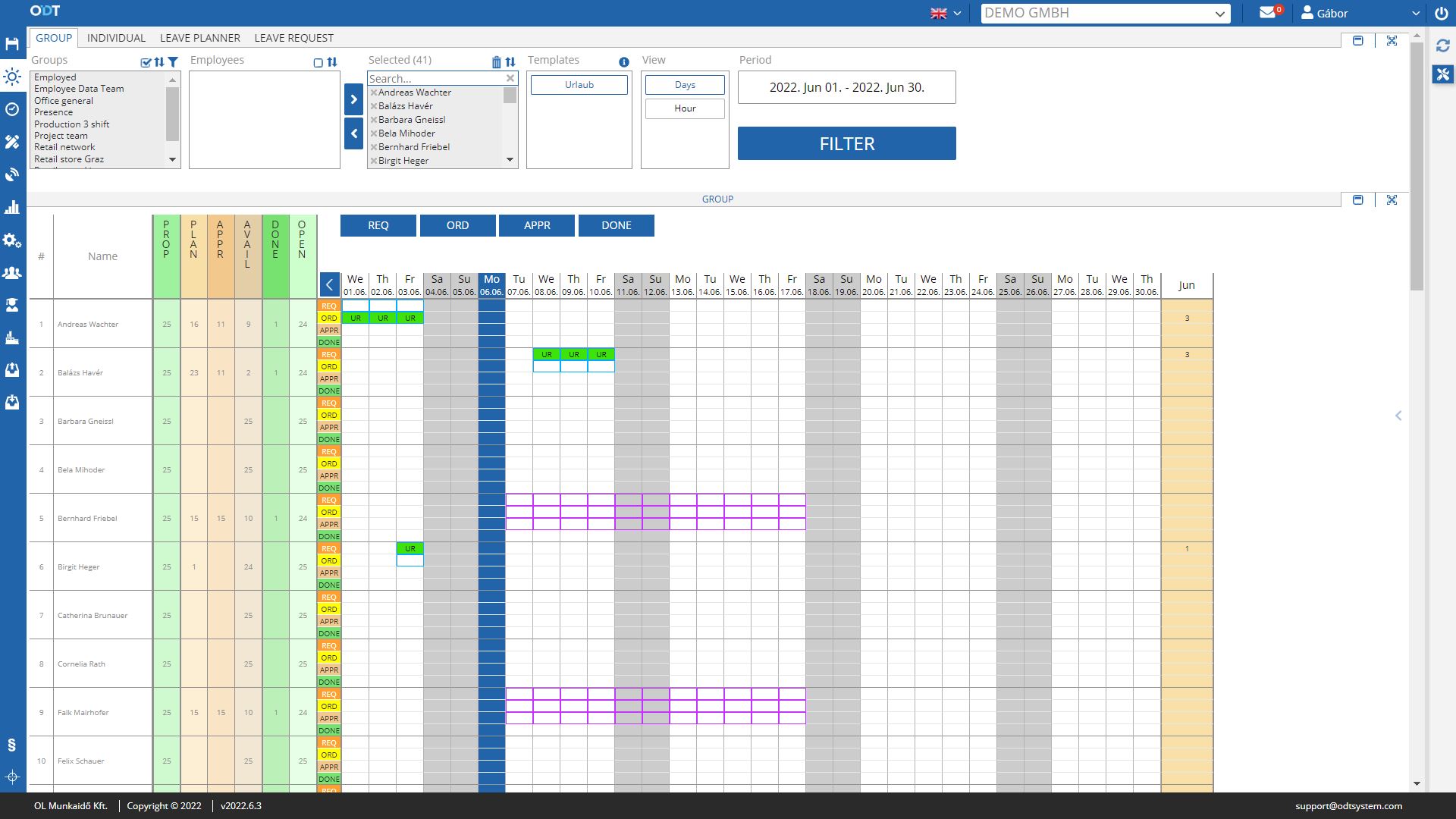 The intuitive interface of the holiday planner module is designed such that it tells you how to use it.
Only what's important, nothing else
Choose what information shall be displayed for employees at different levels. With this unrivaled feature, you can focus on important things.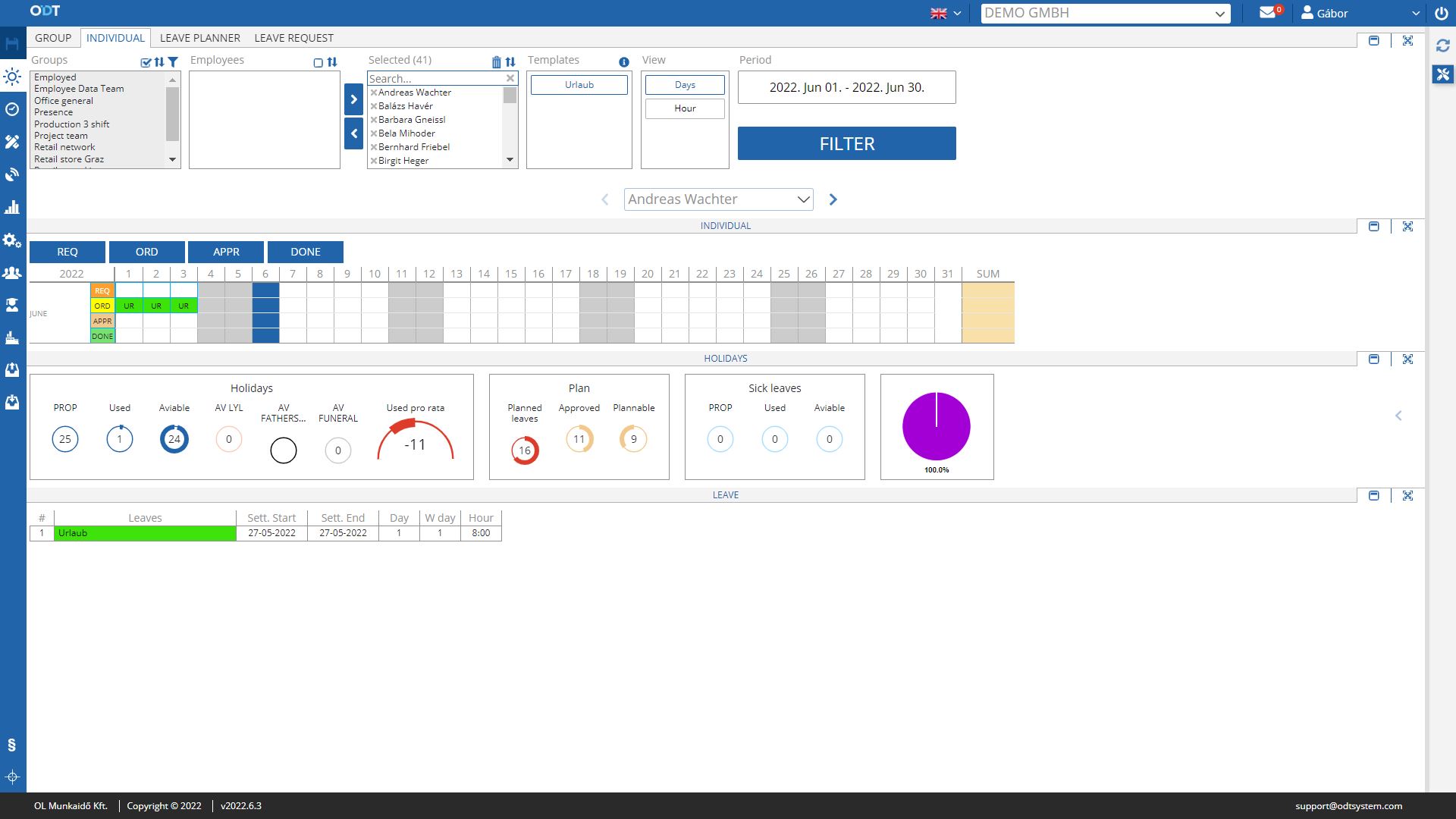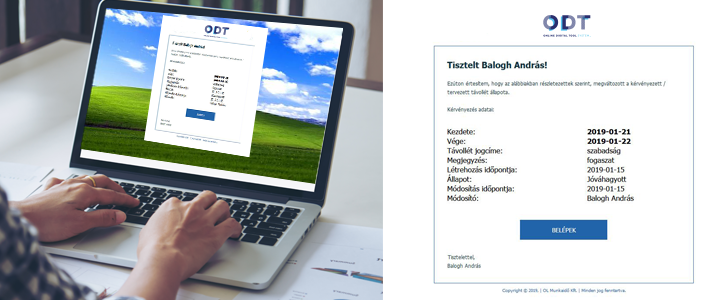 With the innovative email notification function, distance is no longer a hindrance, as you can assess holiday requests from anywhere with one click.
Take advantage of the company's resources
Put down the panic due to "stuck" holidays. It is easier than ever to issue holidays precisely because the system indicates the holidays that can be issued proportionately and those already issued.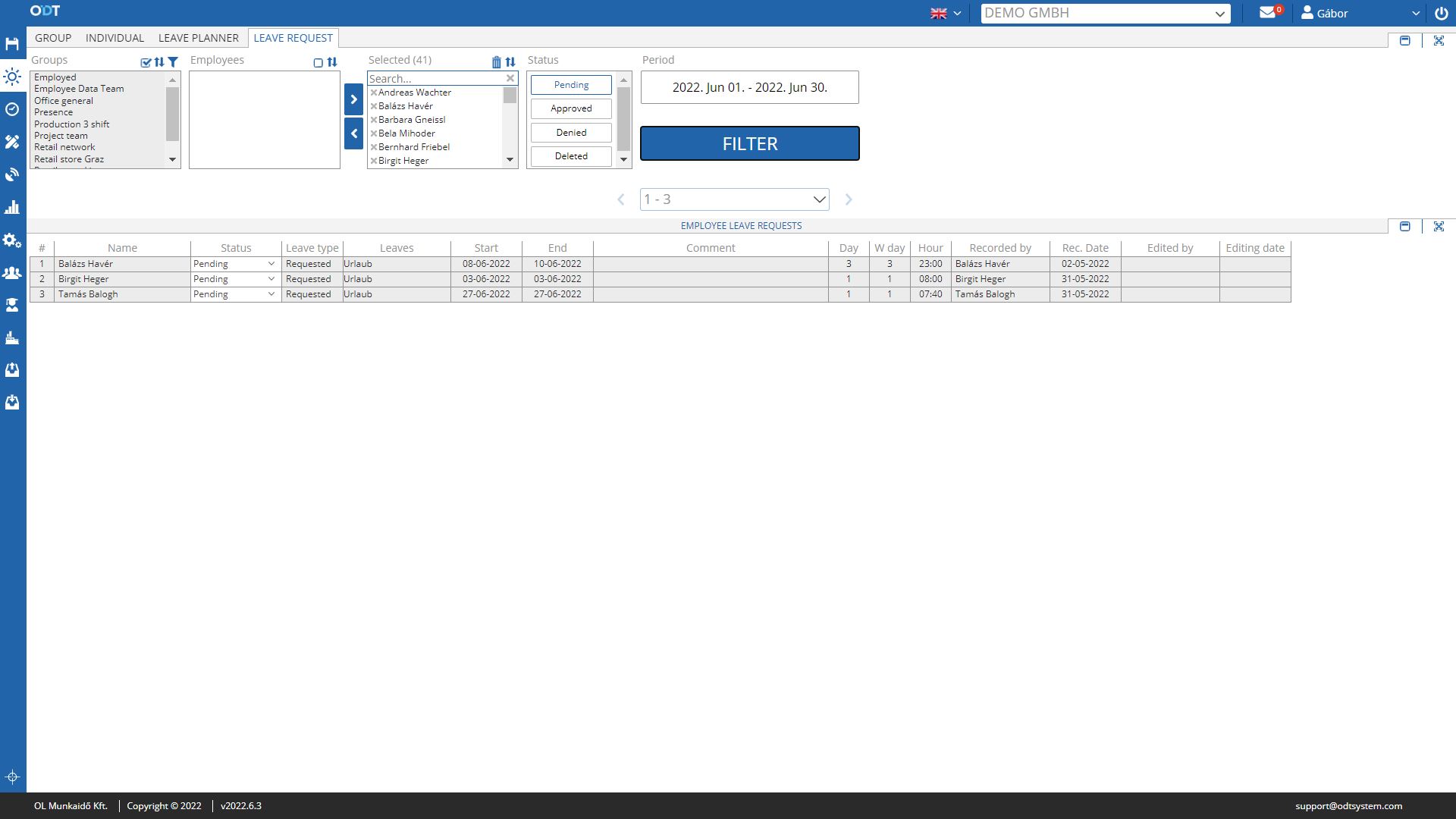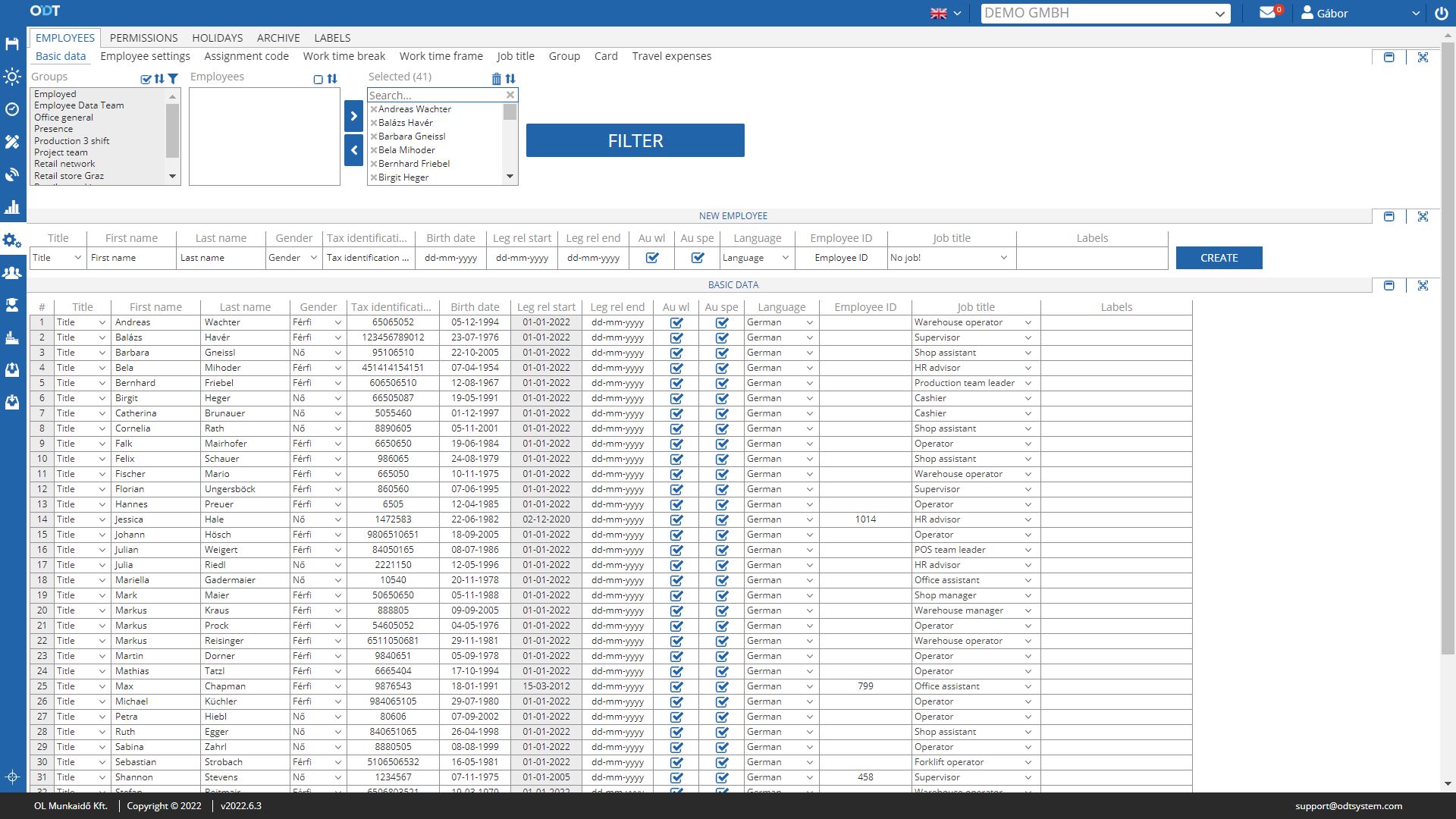 Thanks to the Smart Absence Group feature, you can set during planning which people need to work for a certain period of time. On request, employees can see on their interface that in which case they cannot apply for holiday for the same period as other employees, thereby guaranteeing that they will have the required number of staff at their company, even during the holidays.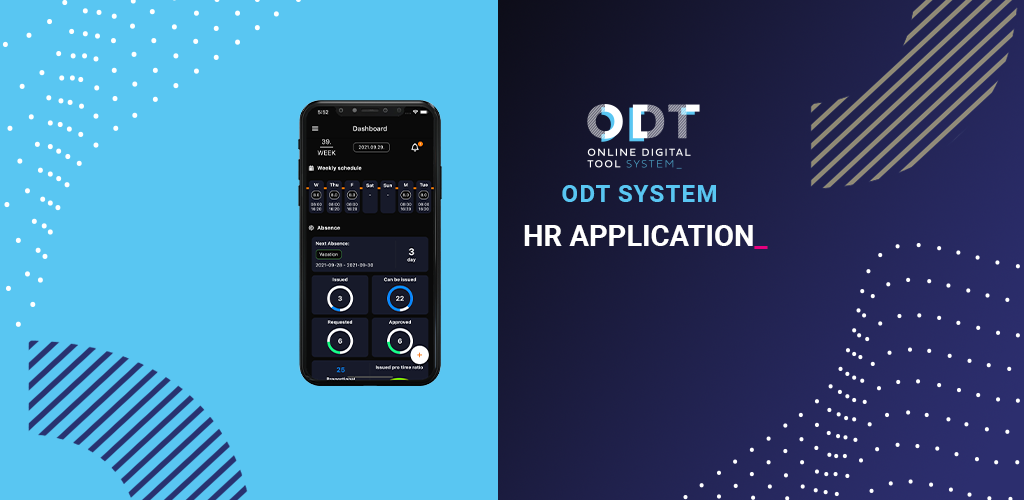 MOBILE APPLICATION
This module is also available in our HR application. Real-time employment data. Leave of absence application approval.
With the innovative application of the ODT System, you can apply for leave or absence from anywhere and at any time. Thanks to the working time data accurate to minutes, you can find all the important information you need to work.
Enter the employees to the ODT System. If you already have another module, they will automatically be included in the Holiday planner. The system automatically calculates mandatory holidays based on employee's data.
Users can apply for leave according to their permission level, and managers can approve requests. Employees can see on their own interface how much holiday they have on a pro rata temporis basis.
The requester ticks his request for a period of time. The system notifies the assigned approver person. If you are the examiner, you can even view in a group view when employees have applied for holiday within a period of time. You can also see when you approved or rejected holiday requests.
Requests will be evaluated by email with one click. An email is also sent to the requesting employee about approved or denied leave, but he can also be verify it on his own interface.
a 42 percent faster administration

42%

42%
"We had an astonishing amount of time released that we have been finally able to devote it to important tasks"
24% production improvement

24%

24%
"The System has made our production processes more efficient."
32% increase in employee satisfaction

32%

32%
"I hadn't had any idea how cumbersome our processes were till I tried it. Everything has become more convenient with the System."
Those who have already chosen us
Our partners without the need for completeness
Trust is important to us so we are guaranteed to care for you
Featured Contacts
Our key customer relationship manager continuously listens to your needs and offers creative solutions. Our customer service provides professional assistance with the use of the system.
Knowledge Mentoring
With our practice-focused trainings, you will also master the master courses of the system tailored to your company. With our 24-hour advanced video and text help content and tips the system is guaranteed to be managed easily
Cost-efficient
We guarantee that we offer ODT System services at fair and economical prices for your company, even under more favourable conditions compared to similar systems. There are no hidden costs and small print.