There comes a day in every company's life when applications are needed to make the company's work easier. This includes ERP systems, payroll programs, stock managers, sales support, marketing software assisting sale, employment and HR applications. Is there an omniscient system or is it worth integrating them? This post is specifically recommended for decision-makers who are now planning to purchase or renew enterprise applications.
Information technology is developing at a dazzling speed. The reward of this is that at the moment there are plenty of software and applications for a wide variety of purposes. The range of enterprise management systems is also becoming wider. It is not easy for anyone who wants to choose the best solutions for the tasks that have arisen.
Specification, or what we expect
To make sure that the right tool is selected, it is necessary to state exactly what kind of task, what is included in that task and roughly what workflow is planned for it. The defining of the tasks can already avoid a lot of disappointments during the project itself.
If there is no precise starting point, we can help you with a little hint, because according to our experience, one of the problems is that the company simply does not know that a lot of work processes can be performed by programs or they can help to make them more efficient.
Therefore, when writing a specification, we advise you to sit down with the departments concerned or those who would manage the program and, if there is no well-defined expectation, simply describe how the workflow is being done at the moment.
As an example: holiday planning takes place in such a way that the person needing holiday goes to the manager and requests leave. The manager checks it against the rest of the leaves then evaluates the application with a senior manager. If the review is positive, it is added to the leave array and the employee is notified on the approval. If this fails then the employee is told that this is not good and the process starts over.
This can be drawn on a paper as a flowchart. This outlines the workflows that need a more efficient solution. Once these are cleared up, the company distributing the systems can also formulate the question of how its application would make this process or processes more efficient.
Requirements and implementation
With the above method, you will find that there are plenty of ideas and needs in a package which could make your company's life better. However, desires need to be adapted to the implementation. Here there are three ways ahead of the company to successfully obtain the right program.
The first option is to make a system completely self-made with a development office. Its advantage is that the desired program will be absolutely company-specific when it is completed. However, it should also be seen that its cost can escalate to astronomical levels in a few years. In the case of a large company or multinational company, this cost can even be recovered, but the next pitfall for these projects is usually the change.
During the development of the company changes, the needs change, the world changes. And so many changes will subdue the project's tasks until eventually the 'large system' will never be able to assemble into an integrated whole and be handed over as a giant seven-headed dragon, which will not make the job easier. And it only partially helps the company's productivity.
Of course, there are success stories, but the key to this is that the software is born for a well-outlined task. This solution is ideal for multinational companies if fully specific workflows are required.
The other way is to look for a turnkey system that has already been developed and will meet your company with some compromises. This is exactly the same for corporate software, like made-up clothing and custom tailor. The confection can be of very high quality cost-effectively. A costume or suit made for individual tailoring, on the other hand, can be a big expense. In this case, they ask for offers and see presentations.
At first glance, most applications know the features you need, but our advice is that you may want to check in detail or ask what has been said and ask the selected company to show how they will perform that particular process. This avoids the situation where the supersoftware, praised in marketing materials, performs far fewer functions in real use.
System tailored to your individual needs
The third solution is to combine the two. In this case, you buy a turnkey system, but the individual needs are developed separately into the program. This solution is cost-effective and efficient, but we also have a hint for this, because such purchase may work out well but can also backfire.
As a rule of thumb, the purchase of such software is successful if the selected application is capable of at least 70% of what the company expects from it. It often happens that in fact, in terms of functions, the selected system only knows the basics and after ordering the same procedure starts as if the development were completely unique.
Therefore, we recommend that to return to the compiled specification and check even on a demo interface before purchasing whether the system meets 70-90% of your company's expectations.
If the answer to this question is yes then with a small custom development you can get into the possession of a fully customized enterprise application for your company at a fraction price. In the case of ODT System, in the vast majority of cases we meet 90% compliance and modify our System according to individual needs so that users, the company and we are all satisfied.
Desires and Prioritization
Many believe that developing a program is just pressing a few keys with a few developers. And there's nothing to limit the imagination. The first programs and applications started like this. There was a time in IT when the world-changing software were made in a garage. But do you remember those programs? Now think about where the IT is now. Today, there are complex systems and programs for specific tasks that required a lot of development hours of learning and even more testing.
And that cost a lot of resources and work of many developers. As a rule, development costs increase along with the complexity of the programs not in a straight proportion, but rather exponentially. This means that it is worth more to get a proven application for specific tasks than to reinvent the wheel from your own resources.
The imagination really does not have much limit, only the costs. Therefore, after formulating the specification, you should also consider the budget of the project. Indeed, everything can be programmed, but it is a question of whether or not the price of this investment will be paid off. Today, fortunately, ready-made systems offer several years of experience at affordable prices. Think about it, if you want a vehicle to get into your workplace, would you develop a car at your own expense or would you rather buy it from a trusted manufacturer? Or would you like to buy a season ticket for public transport?
Therefore, when purchasing a program, we recommend you to prioritize the features that are important to your company and consider their costs.
Whatever enterprise program you are planning to purchase, the information here will show you how you can implement this project successfully and cost-effectively. Remember, a well-chosen system makes the company's efficiency switched to money and easier working hours, so it's worth dealing with it. If you are able to formulate the needs and apply the solutions offered to these needs, you are guaranteed to help your company with the best solution as a responsible manager.
In the next section, we will look at whether it is worth acquiring special tools or following the myth of the 'all-knowing program'.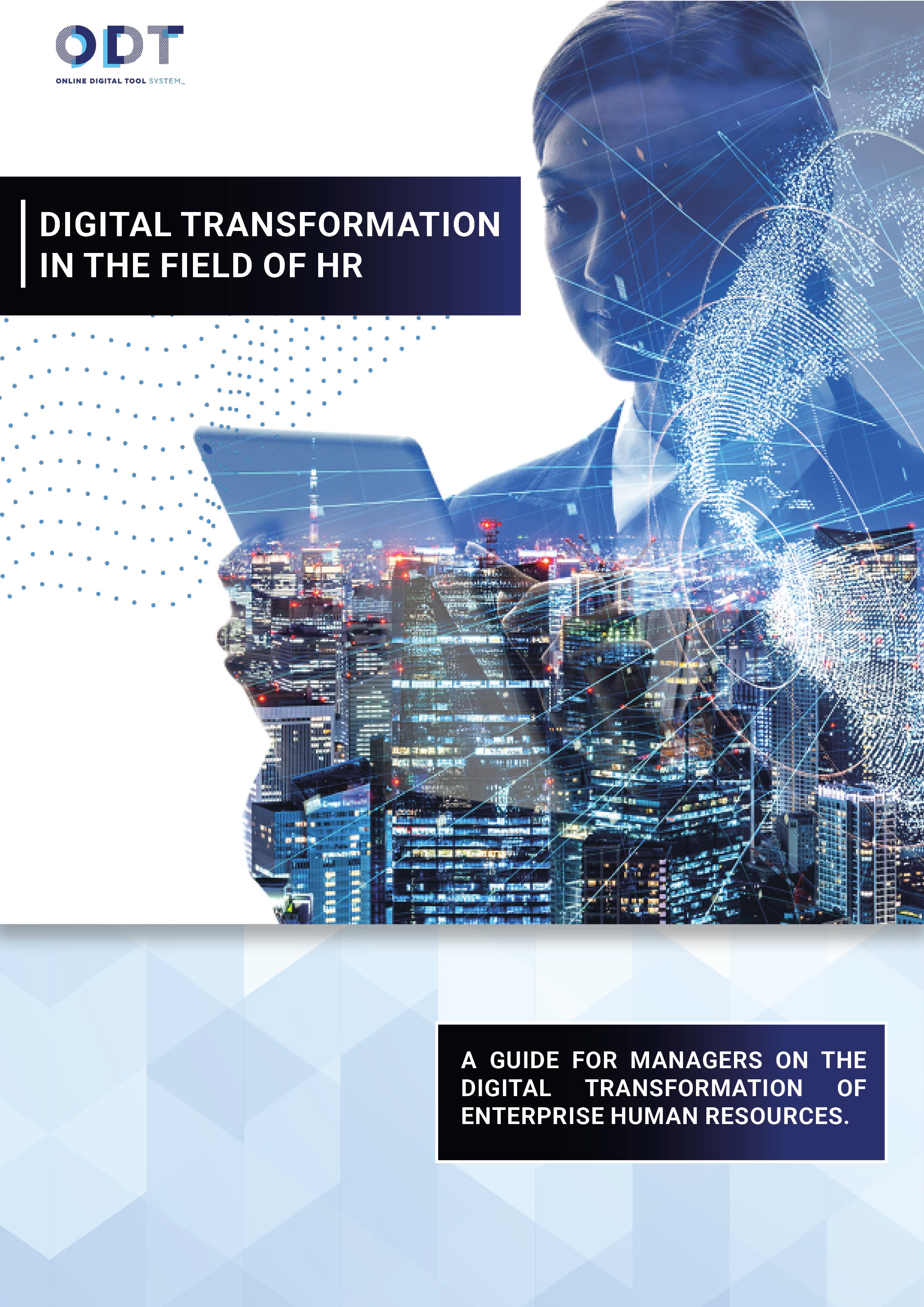 Digital Transformation in the Field of HR – Free Guide
Our free guide will help you answer the key questions about HR's digital transformation.
In the guide:
🔵 Digital Revolution Indicators
🔵 Digitisation, digitalisation, digital transformation
🔵 How does the transformation take place in companies?
🔵 Technological evolution in HR
🔵 HR Digitisation Landscape
🔵 Challenges on the digital path
🔵 A proven method for digital transformation of HR
Our modules can also be used as separate applications. And when integrated, they form an efficient system.