There is no proven recipe for success, but there are unwritten rules that will lead us to victory in HR's digital transformation.
Digital transformation can't take place immediately. In fact, this has the steps that are crucial for it. It is also worth adhering to these because they largely determine not only the success of the transformation, but also that of the digital transformation of the whole organization — employees and operational processes — across HR. All this is a teamwork performed by appointed internal responsible persons and, if necessary, by external service providers.
Setting clear goals
Before any new technology is introduced in HR, it is necessary to assess the current situation first. You need to be aware of the strengths and weaknesses in each area and then consider what achievements the company intends to achieve. On this basis, definite and clear goals can be set to help HR management to move into the right direction along with digital transformation.
Have everyone sit at the table
Once the goals have been formulated, it is also necessary to determine who will be responsible for achieving the goals. To do this, all parties concerned need to be involved, ranging from employees to third-party service providers to supreme managers.
It is a matter of assembling a team in which:
it is understood how do HR processes contribute to the productivity of the organisation,

how technological innovations can make these processes even more efficient

and promote change and ensure that everything works optimally.
Choose the simpler solutions
In this case, it is worth taking small steps towards the goal. Digital transformation will be effective and successful if we define the strategic steps and the areas which need or can be digitised. Without this, the responsible team will not know exactly where to move on and what technologies are needed. It is advisable to think about both short and long-term steps that will lead you through the transformation process.
Prioritize the ideas
At this point, it is worthwhile to stop and prioritize the steps of digital transformation. Priority should be placed on the basis of the time and resources spent and the impacts of technological innovation on operation. It is recommended to put those on the top of the list which require less effort but at the same time produce a significant result. This helps to optimize the time, money and efforts spent, and helps to quickly set up and start HR transformation processes.
Performance evaluation
To draw real conclusions from the success of digital transformation the results are to be monitored and evaluated the. Measuring each technological solution allows you to find out exactly what works and what does not. It helps to identify what obstacles and pitfalls will arise. Being aware of this, it is possible to modify the strategic steps and solutions to achieve the objectives set.
Development of a digital culture
This is the most important point in HR's digital transformation. The introduction of technological solutions alone is not enough. For this to work, every employee in the organization — from employee to executive — needs a digital mindset. The development of a digital organizational culture plays the most important role in this. This will help in and complete the successful digital transformation of HR and the entire company.
Digitalisation of human resource management confirms the productive functioning of the company and employer branding. However, it is not enough to do it once, it must be maintained continuously. Because technology is evolving unstoppably, and what has worked today may be obsolete by tomorrow. However, if a company sets its goals consistently, monitors changing trends and employee needs, and is flexible to innovate, it can always strengthen HR management with up-to-date technology.
Author: Gabriella Pataki-Magyar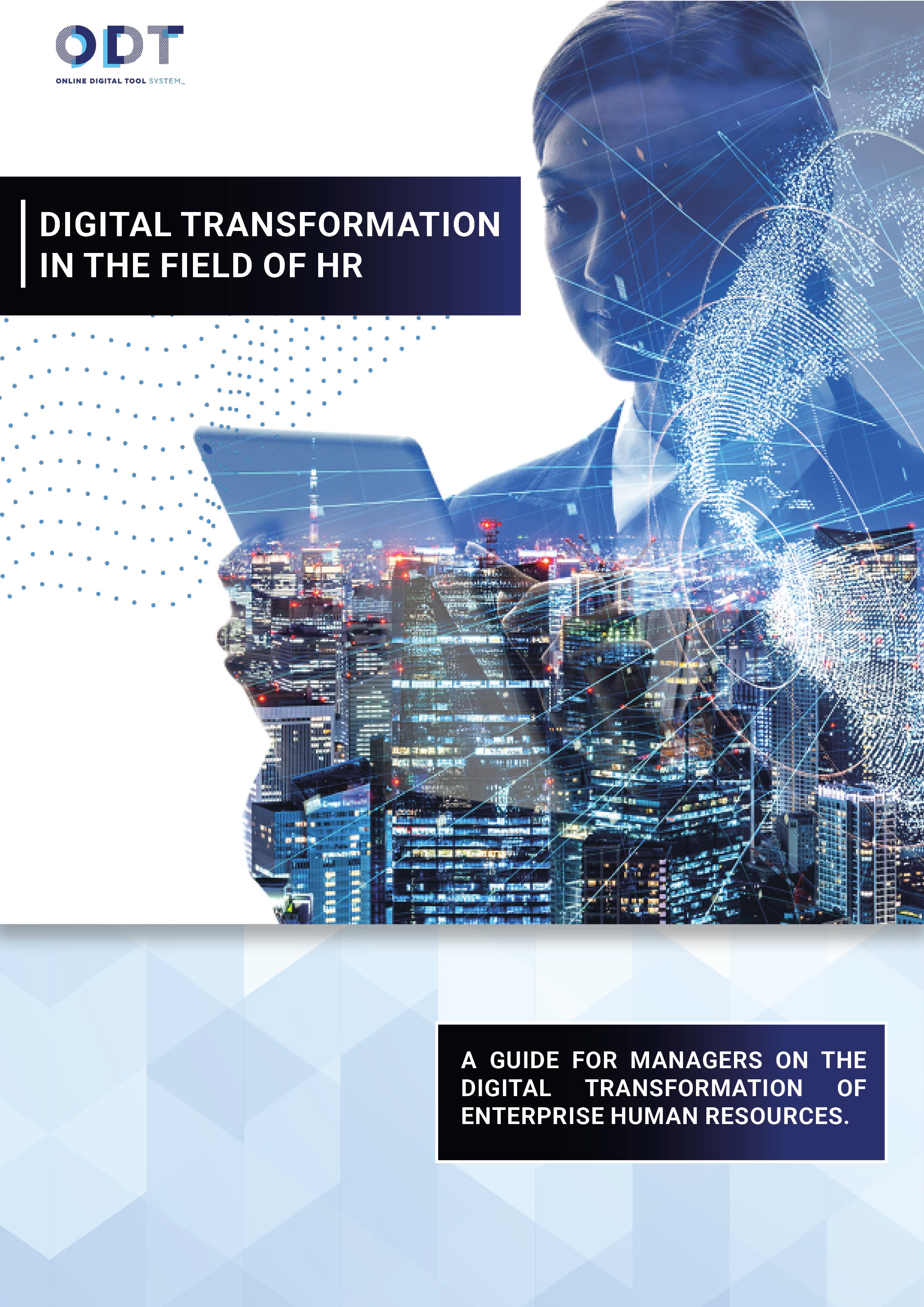 Digital Transformation in the Field of HR – Free Guide
Our free guide will help you answer the key questions about HR's digital transformation.
In the guide:
🔵 Digital Revolution Indicators
🔵 Digitisation, digitalisation, digital transformation
🔵 How does the transformation take place in companies?
🔵 Technological evolution in HR
🔵 HR Digitisation Landscape
🔵 Challenges on the digital path
🔵 A proven method for digital transformation of HR
Our modules can also be used as separate applications. And when integrated, they form an efficient system.